At the heart of Contemporary Group Limited's vision, mission and values is our Board of Directors, in charge of setting business strategies and structures for our current operations, as well as future developments. At present, our Board of Directors is comprised of nine members.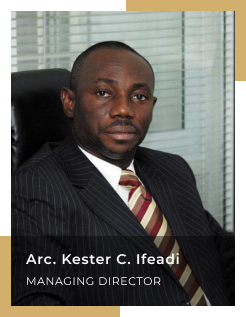 Arc. Kester C. Ifeadi is the Managing Director and Chief Executive Officer of Contemporary Group Ltd. He is an accomplished architect whose experience and cognate exposure in the profession span over 30 years. Arc. Ifeadi holds a bachelor of science degree in architecture from the University of Ife (1984) and a master of science degree in architecture (1986), He is a member of the Nigerian Institute of Architects (MNIA).
He started his working career in Osogbo Steel Rolling Company in 1985, and was an assistant lecturer in the Department of Architecture, University of Ife, between 1986 and 1987. He later joined Crown Associates, a leading architectural firm in Lagos and rose to become an associate partner before leaving in 1990. In 1990, he floated Contemporary Design Associates, a consultancy firm, as the principal partner, a position which he occupies till date. In 1992, he incorporated Contemporary Properties Ltd, a property development company as managing director. Arc. Ifeadi is equally the CEO of Contemporary Properties Inc.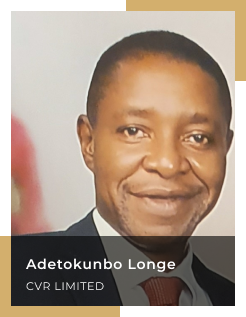 Adetokunboh has a B.A degree in Political Science from the University of Ife (1982) and LLB in Law from the University of Lagos (1987). His business experience spans over 30 years. He has practiced as a business consultant in the construction, Healthcare, Aviation and Real Estate Industries.
He is the Managing Director of Contemporary Ventures & Resources Ltd (CVR). As part of Contemporary Group, CVR facilitates the development of medium to large scale 'TURNKEY' real estate development projects in the Residential, Commercial, Retail, Education, Healthcare and Power Sectors. CVR is also a full service Brokerage Company involved in a wide spectrum of activities in the Real Estate Industry including: Acquisition, Disposal and Leasing of Property Corporate Development/Redevelopment Corporate Outfitting, Land Title Documentation and Regularization and Real Estate Transaction Facilitation.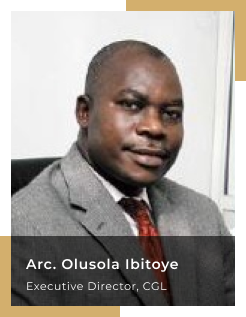 He holds a bachelor of science degree in architecture, 1984, and a master's degree in architecture from the University of Ife, Ile – Ife, 1986. His experience spans over 25 years in design and construction. He has worked for such reputable firms of architects and engineers such as Tima Associates, Allied Architects, Studio Alko Consultants and Crown International Limited, among others.
He also worked briefly with the Federal Capital Development Authority Abuja (FCDA) between 1987 and 1988 before moving on to Kuwait under the employment of Kuwait Engineers as an architect. He joined Contemporary Properties in 2001 and he is currently the Executive Director of Contemporary Group and is a registered member of the Nigerian Institute of Architects.
Victor, graduated with a bachelor's degree in accounting and finance from Edo State University, Ekpoma, in 1997. Between 1997 and 1998, Mr Ifeadi worked with Shell Petroleum Development Company, Lagos, and in 1999 worked briefly with Technology Partners International, an oil servicing company as an accounts officer. He joined the aviation industry in 1999 and rose to the position of country manager of Bellview Cote d'Ivoire, Mr. Ifeadi left Bellview Airlines for Conwave Ventures Limited, one of the groups subsidiaries. He is currently the Group Head, Business Development.
He is a graduate of Accountancy and (MBA) Masters degree of Business Administration, Finance and Accountancy from Ambrose Alli University, Ekpoma. He graduated in 1981.
He joined Chase Merchant Bank (later known as Continental Merchant bank. He was the pioneer Managing Director and Chief Executive O¬fficer of STB Building Society (Mortgage Bankers) in 1992 before he moved to Liberty Investment Limited – a financial Consultancy Firm, as the founding Managing Director and Chief Executive Officer. He went back to mainstream banking in 2003 to join Prudent Bank Plc where he retired as a regional director. He currently engages in a variety of real estate businesses in Nigeria